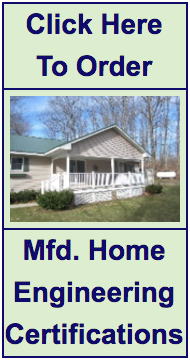 Manufactured Home Foundation Certifications
Manufactured Home Additions Certifications
​If you are selling or buying a manufactured home, then most likely a Foundation and or Additions certification will be required. For all FHA and VA loans, an engineer's foundation certification is required that states that the home is placed on a permanent foundation that complies with the "HUD Permament Foundation Guide for Manufatured Homes", dated 1996 by the US Department of Housing and Urban Development (HUD). It is also commonly required that Additions meet manufactures requirements.
Please call or text me at 541-554-1217 to order a Manufactured Home Foundation Certification.